I wanted to put out this quick post to gather people's opinions on the practice of gathering people's data from forms before they've clicked 'submit'. 
As a quick example – say you wanted to get a quote from a business to…refit your windows. You start to fill out the form on their website so they'll contact you later to provide you with a quote. But halfway through the form you run out of time or, more pertinently, decide you don't WANT this company to have your information on file. So you abandon the form and leave.
My question is – do you think it's okay for the window fitting company to collect that abandoned data and, more importantly, use it? 
I've encountered this question more than once in my professional career and have vociferously stated that I am against it. I am particularly against using the data to contact someone directly, as they made a conscious decision not to submit that data. The counter-arguments I've heard are generally:
"If they ran out of time, then we are providing them with a useful service by contacting them."
"Hundreds of businesses do it. It counts as a semi-hot lead, as the person has shown some interest in your service."
A colleague even told me about a practice whereby companies note down the IP addresses of users on their site and then convert those IP addresses to phone numbers for their outbound sales teams to dial.
It was also suggested to me that we could take this data (that hadn't been submitted) and email the customer, to say "hello! We saw you on our site and wondered if we could help you at all." It sounds a bit invasive to me and I don't really like it.
BUT – having said that, I could be in the minority! Please – leave your comments and let me know what you think about this.
Filed under: Content & usability
|
7

Comments
Tags:
data collection
So it's been a few months since I posted on my blog. Admittedly this is a poor show on my part, but on the other hand, I've been crazy busy.
Today, I was inspired to share an extract with you which struck me as poignant:
"Many writers let their sentences unfold experimentally on the page in order to find out what they are, where they are going, and how they can be shaped. I would sit without a pen in my hand, framing a sentence in my mind, often losing the beginning as I reached the end, and only when the thing was secure and complete would I set it down. I would stare at it suspiciously. Did it really say what I meant? Did it contain an error or ambiguity that I could not see? Was it making a fool of me? Hours of effort produced very little, and very little satisfaction?
From the outside, this slowness and hesitancy may have looked like artistic scrupulousness, and I was happy to present it that way, or let others do it for me. [ … ]The voices of giants were rumbling over my head as I piped up to begin, as it were, my own conversation on the train."
This is an extract from my English language course text book, where English writer Ian McEwan talks about his self-consciousness as a writer. As someone who often writes, re-writes, and re-writes again, his feelings of uncertainty certainly rang true with my own. So far, I've already re-written this post more times than its quality suggests!
This led me to consider how even minor musings via Twitter or Facebook can, for those who claim to be a writer by profession (as I do), act as a public advertisement of your ability. And what bait could be more tempting to those ready to pounce on errors of punctuation, grammar and meaning than a mistake from those who are supposed to get it right every time?
I'm surrounded by those who scrutinise my writing carefully, from my professional work (as they should) right down to my hastily constructed tweets. As such, I find myself in a situation where I'm intensely self-conscious about what I write and how I write it. When I make mistakes, most often in social media spheres, they're often publicly highlighted, for no other reason than to highlight them.
My question is, as someone who writes for a profession, should I be expected to simply be 'better'? Should I ensure that every Tweet, Facebook status update and comment on a blog is grammatically flawless? I would never suggest that my professional work should be anything short of mistake-free, but should we be publicly highlighting the mistakes of those who claim to be professionals via their social feeds?
In the interests of keeping this post short, I would like to put out a request to all the would-be pedants out there; please try to restrict your corrections of those who do commit their writing to the public eye. You may feel an entitlement to correct the professionals, but embarrassing others (who mostly aren't professionals) for a mis-spelling or their mis-use of a word in front of their social network is one of the quickest ways to discourage them from writing at all.
For any other writers-by-trade out there, do you relate to McEwan's sentiments, or do you write far less self-consciously? Do you think that pointing out the mistakes of others on social networks is important for maintaining standards, and should those of us who tout ourselves as professionals accept that we simply should be 'better'?
Filed under: Content & usability
|
Leave a

Comment
Today while studying for my linguistics degree course, I felt inspired to write a little poetry. This is my first in maybe 10 years and was just for fun. Enjoy!
Pottery cat
She tries to jump but just falls short
She sadly failed to abort
Her tiny claws reach out to grasp
But fail to save her lower half
From sliding backwards off the side
A chip in her still fragile pride.
Noisy house
A battered toe, a cry of pain
Kes desperate to go out again
A brush makes contact with the wall
A neighbour's child runs down the hall
A hacking cough comes from next door
Keith's humming comes up through the floor
The football game on next doors screen
I hear the fans cheer for their team
Domestic woe erupts next door
Threatening to leave his wife once more
The cat is clawing at the rug
Its threads come looser with each tug
I find no peace on my settee
I think the world's forgotten me
Filed under: General
|
2

Comments
Tags:
poetry
The stats helper monkeys at WordPress.com mulled over how this blog did in 2010, and here's a high level summary of its overall blog health: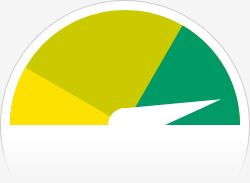 The Blog-Health-o-Meter™ reads Wow.
Crunchy numbers
A Boeing 747-400 passenger jet can hold 416 passengers. This blog was viewed about 3,700 times in 2010. That's about 9 full 747s.
In 2010, there were 32 new posts, not bad for the first year! There were 89 pictures uploaded, taking up a total of 14mb. That's about 2 pictures per week.
The busiest day of the year was June 21st with 99 views. The most popular post that day was Why you should buy Mass Effect 2.
NB from me – I posted this because I liked how the Blog-Health-O-Meter read 'WOW'. Obviously I think it's exaggerating considering my blog in comparison to a range of other, far more popular blogs, but it made me feel good anyway. So, thanks for that, WordPress.
Filed under: Uncategorized
|
Leave a

Comment